A Fragile yet Resilient State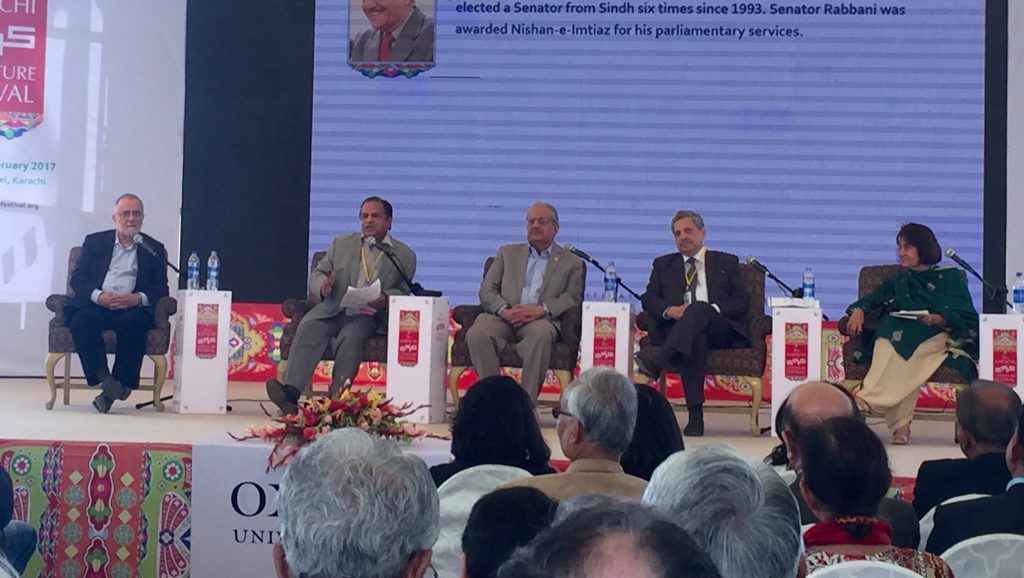 Overlooking the waters of Chirma Creek, not a seat in the main garden of the Beach Luxury Hotel was empty. All were waiting in anticipation to find out what the diverse panel of speakers had to say about whether Pakistan was 'A Fragile State or Resilient Nation?' at the Karachi Literature Festival.
The session got off to an anti-climactic start when Senate Chairman Raza Rabbani held forth on how Pakistan was turned into a "garrison state" instead of a progressive one. The mundane monotone was interrupted by moderator Mujahid Barelvi and Ahmed Rashid was brought to the rescue.
Rashid pointed out two major failings of the state in the last few years. "In the aftermath of the Peshawar bombings, there was a pledge by all the political parties and the military to pursue a twenty-point National Action Plan to combat extremism. There was some success by the military, but there was absolutely no follow-up in the social aspects of the plan, to improve education, de-radicalise young people and deal with the madressah issue," Rashid argued.
"The second big failing," he continued, "was that the two army chiefs before the present army chief – Kayani and, at the beginning of his term, Shareef – had suggested that our problems do not lie with our enemies, but that they lie internally. These statements were welcomed by all sectors of society. Unfortunately, there has been retrogression on that front. We tend to blame anything that happens on India." Rashid said that we have not been able to build a true narrative against extremism.
He raised the question as to why the four missing bloggers, who were not against Islam or Pakistan, but secular opponents of extremism, were taken prisoner. "It sent a chilling message to the media and to the press." Rashid argued that until we develop a coherent narrative, that is shared by the military, the political parties and civil society, we will not be able to fight extremism.
Other speakers on the panel included Justice (Rtd) Nasira Iqbal and Senior Vice President of the PTI, Hamid Khan.
The writer is an Assistant Editor at Newsline. He is on Twitter @aliHbhutto.
Next