Open Letter from a Concerned Citizen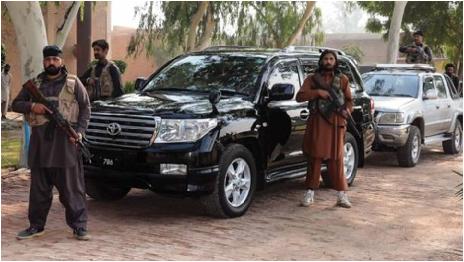 An open letter to
Inspector General Sindh Police, Administrator DHA and Chief CPLC
Subject: Illegal occupation of public spaces and Private armies
There is hardly a street in the posh areas of Karachi where one cannot see private 'militias' and armies camped out in tents, cabins and containers, outside the residences of arrogant, mindless and pampered Pakistanis. These illegal 'militias' encroach public spaces, occupy portions of public roads and terrorise neighborhoods. The local police and the Housing Authorities conveniently look the other way.
On 23rd November 2016, the Supreme Court of Pakistan directed the Defence Housing Authority to take across-the-board action against tents set up by security guards outside the residences of high-profile people residing in DHA.

The DHA and the Police have so far failed to comply with the Supreme Court Orders and lame excuses such as 'notices have been sent to 100 residents' (why not all) , to remove 'Illegal' tents. (there is no such thing as legal tents) are being forwarded.
We would like to insist that that every house with any tent like structure outside its boundary is illegal. We would also like to insist that all guards / people with weapons amount to private armies or militias and must be completely done away with as required by Article 256 of the Constitution of Pakistan. Will it be incorrect to assume that DHA, the Police and the CPLC are accomplices in violating the constitution when they allow these illegal occupationist private armies to exist in every neighborhood of Karachi?
The DHA, the Sindh Police and the CPLC are requested to ensure that the orders of the Supreme Court are fully implemented. Those who cannot exist without the presence of private militias and tents outside their homes may be offered suitable accommodation in high security precincts such as the Central Prison at Karachi. Why must  ordinary citizens be subjected to living in war-like zones dotted with private armies?
Next