Fashion Pakistan Week Day One
Shortened once again, the Fashion Pakistan Week (FPW) is now only a two-day event at The Pearl Continental Hotel. The Fashion Pakistan Council (FPC) has come far in embracing, promoting and establishing Pakistani style and aesthetic at home and abroad. Celebrating 10 years since its inception, Day One (22nd February) of FPW marked its anniversary with the Spring/Summer 2017 collection by Pakistan's leading designers .
At the redcarpet, Newsline asked Maheen Khan, a bonafide fashion legend, about the importance of FPC and FPW.  Maheen said that she was honoured to be a part of the council that , despite the odds, had succeeded in bringing new, deserving talent to the forefront. The council has also has opened up new opportunities for Pakistani designers in the global market. In fact, she credited a new ingenuity and boldness in Pakistani fashion largely to the FPC.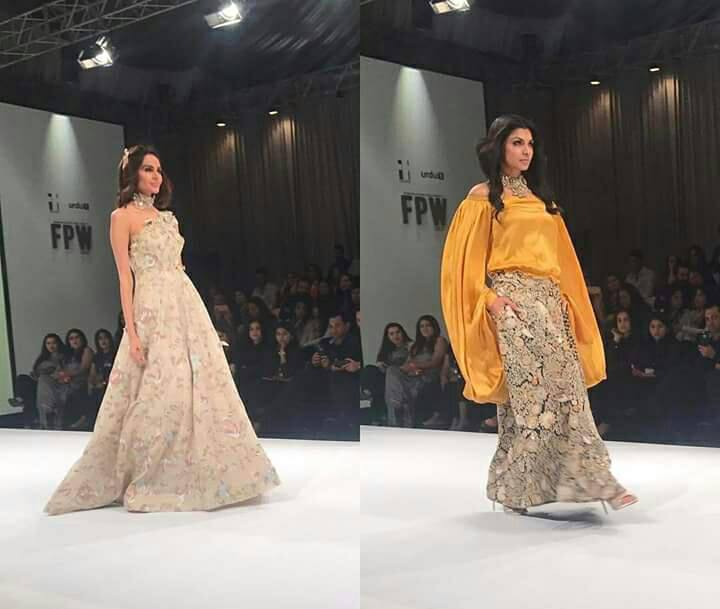 Deepak Perwani, current chairperson of FPC and renowned fashion designer, seemed at ease when asked how he anticipated this Fashion Week. He said that the council was diligent in its quest to find as well as encourage edgy new concepts and introduce that talent globally. FPW this year was special as four budding new designers were showcased on the prestigious runway; Tooba Chottani, Areej Iqbal Qureshi, Zafar Ahsan Naqvi and Fatima Abdul Rauf who were sponsored by Bank Alfallah's 'Rising Talent' competition.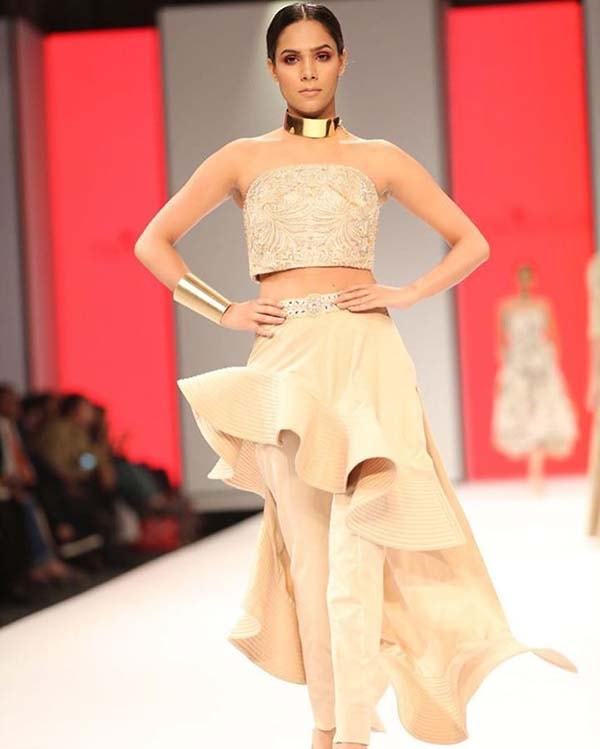 As for the event itself, one has heard of fashionably late, but the show began two hours later than scheduled. Regardless, it began with a bang and for once, the audio-visual experience was absolutely  perfect. The atmosphere was charged, and Ayesha Farook set the bar quite high with her designs that were the perfect combination of glamour and spring-like lightness. FNK Asia's avian theme collection for spring were billowing, silken, kimono-esque styles.
Men's fashion always takes a backseat during this fashion bonanza celebrating the female form and feminine extravagance but with 'Wild, Wild, Vest' Nauman Afreen tried to challenge that. Before his collection was presented, four models introduced it with a electric (literally) catwalk dance – but his designs were ultimately bland and underwhelming.
The finalists for the 'Rising Talent' competition presented the most innovative collections on the runway that night and from designs that ranged from extravagant. hand-painted ballgown trains (which almost caused Nadia Hussain to stumble), to precariously placed minuscule 3D triangular structures,  which symbolised connectivity and singularity, according to designer Fatima Abdul Rauf. Another highlight of the show was seeing model Abbas Jaffri return to the runway. Tina Durrani's line titled 'The Debut' was composed of the most wearable collection of the night and though gorgeous, was also the most generic.
Perhaps because of the socio-economic climate it is far more difficult for Pakistani designers to take risks in their ideas than it would be for designers in Milan, but it was an excellent step in the right direction to highlight new designers who can afford to be more experimental in their work.
Next