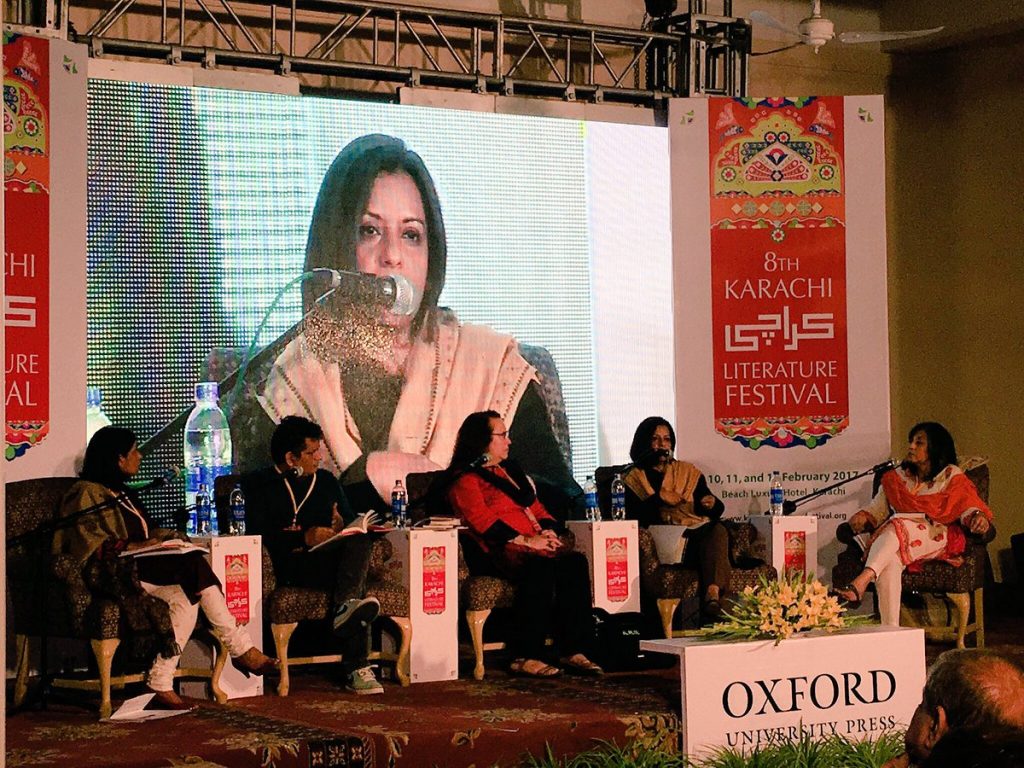 On the opening evening of the Karachi Literature Festival, Nafisa Shah's acclaimed book 'No Honour in Honour Killing' Gender Violence, Law, Religion and Power in Pakistan' was discussed by an impressive panel.  Besides the author herself, other panelists were author and columnist, Mohammad Hanif, professor and author, Anita M. Weiss, Sindhi poet and  human rights activist, Amar Sindhu and advocate, Nausheen Ahmad. The session was moderated by BBC broadcaster Umbar Khairi.
Much has been discussed about this topic but there has been scant organic research into what gender violence really entails or how it impacts not just the demographic it immediately affects but society at large.
Nafisa Shah has researched the topic extensively. According to her, one  important lesson is to stop viewing feudal and land owners through a single lens. Sometimes they may be the guardians of women's rights and we have to work together with them to establish an efficient network of resources to help the women most in need.
Anita Weiss said that if the state sanctions honour killings in the country,  this mindset allows people to commit other aggressions against women that the law then turns a blind eye to as well. That is why there are hardly any convictions in cases of  acid attacks, domestic violence, rape, forced abortions, and marriages.
When Hanif was asked to speak at the panel he almost felt as though he should apologise for speaking as the only man there. He said the he felt honoured at being a part of Newsline at the same time when Nafisa Shah was working there. In fact,  it was during her time at the magazine in 1992 that she began her research on honour killings and published an article  that was the first of its kind on the topic.
The seminar culminated with the overall message that every Pakistani has to unlearn the centuries of patriarchal oppression that we all engage in on a daily basis and that the damage done by Zia ul Haq will take decades of reversing . But despite all this Pakistan continues to produce some of the most resilient and remarkable women in the world.
Next