Dishonourable Conduct: A Summary of the Infamous Aamir Liaquat Video
On August 14, 2011, Pakistan's independence was not the only topic of discussion across the nation. A sensational nine-minute video of Aamir Liaquat, the managing director of Islamic channel QTV, surfaced online and threatened to destroy the reputation of one of the country's self-appointed 'religious experts.' Liaquat has claimed that the video footage has been tampered with and his voice impersonated as part of a smear campaign.

For those of you who couldn't see the video before GEO TV began its campaign to remove it from the Internet, haven't seen one of the innumerable copies or simply can't be bothered to subject yourselves to nine minutes of Aamir Liaquat, Newsline has assembled and summarised some unbecoming moments from the infamous video – enough for anyone to understand what all the fuss is about.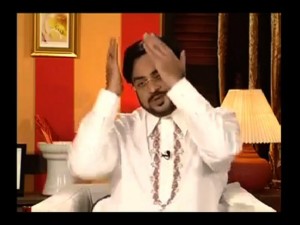 Here we have a preening Aamir Liaquat swearing in truly un-Islamic fashion, mocking a fellow expert for his "Rishi Kapoor-style topi" and trying to recall the name of a "zabardast kalakar" with a charming penchant for appearing in Bollywood rape scenes with numerous women we feel much sympathy for. This portion of the video seems the most natural, as if Liaquat's letting his rather greasy hair down. If this is what it's like to have him as a chum, we think we'll pass. Still, the speed at which he transforms from lecherous Liaquat to attentive Aalim does impress us.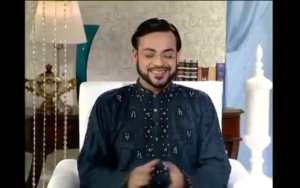 For reasons known only to him, a typically decked-out Liaquat is unable to contain his laughter as he is presented with a question concerning the serious issue of suicide in Islam. Despite the female caller's evident concern, Liaquat and his guest seem to have found time for a chuckle. Or six. Looks like we missed out on the joke.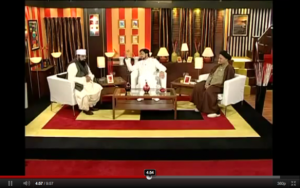 And it sings! Liaquat isn't averse to doling out entertainment, as his rendition of 'Hum to teher pardesi' shows. Rather sadly, he is the only one clapping. Perhaps he can use some of the free time he might soon have to take singing lessons. Still, we've got to hand it to him for his cinematic knowledge: "Ghalib film dekhi hai aapne?" he asks his companions at one point. Well, guys, have you? We hope so – the scholar who hasn't looks much the worse for it.
Clearly there's a Jekyll-and-Hyde case going on here. When he's on camera with that sickly sweet smile, it's as if sugar wouldn't melt in Liaquat's mouth. But take away the spotlight and a shallow, abusive co-worker is revealed. One wonders how he could have missed Islam's injunction to never be two-faced, particularly not for personal gain. It could be that he's lost in his own reflection.
Whilst in the presence of two seemingly mute fellow scholars, Liaquat berates a member of the crew for talking constantly. Somewhat ironically, Liaquat's complaining voice is the only thing that can be heard. That, as one might expect, is something of a trend in this video.
Next