Diary of an Old School Journalist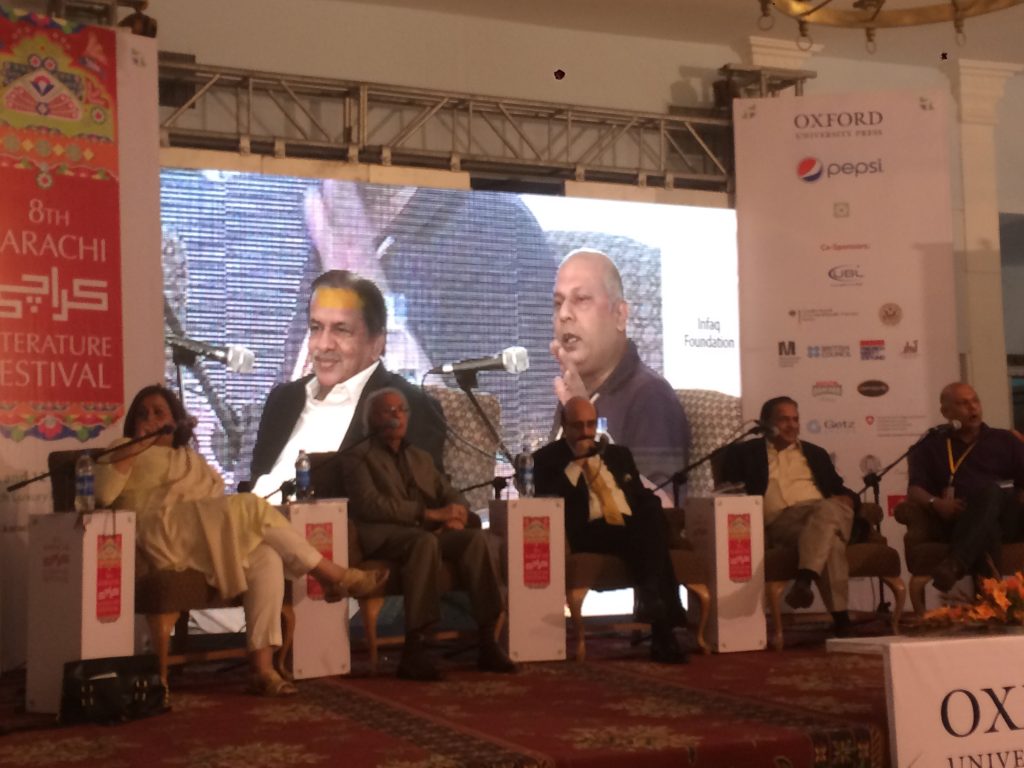 The third day of the KLF saw the launch of veteran journalist and talk show host, Mujahid Barelvi's book on his journey from a left leaning political activist to media personality.
Barelvi spoke of  his journalistic career and his association with different personalities with diverse political ideologies. He emphasized the need to keep a balance and follow journalistic ethics. Despite  being associated with the left leaning National Awami Party, Barelvi enjoyed cordial relations with the late Professor Ghafoor Ahmed of the right wing Jamat Islami Pakistan.
"When Professor Ghafoor was contesting elections from the constituency where we lived, my father said, 'You are in NAP, and will be opposing Jamat Islami, but remember that Professor Ghafoor is from Bareli, (the town in India we had migrated from.)  So, don't use harsh language while referring to them in your political rallies."
Playwright and short story writer  Noor ul Huda Shah said, "People like Barelvi pursued a dream, the dream of a society where  justice and equality prevailed. There were many who strived for that dream, from political leaders and workers to those associated with literature, and journalism.
Peerzada Qasim, poet and academic who has served as the Vice Chancellor Karachi University, referred to the sorry state of journalism especially the electronic media. He appreciated Barelvi for having distinguished himself in these times.
The event was bolstered by the arrival of President Azad Kashmir Mohammad, Masood Khan, who was attending at the invitation of Mujahid Barelvi. Khan said, "I know Barelvi since he was working at the ministry of foreign affairs and have always found him to be very nuanced and articulate. I have always loved interacting with him."
The President of Azad Kashmir took this opportunity to address the literary community and request them to highlight the plight of the people of Jammu and Kashmir, through their writing.
Writer and poet, Haris Khalique assured the president of this support and mentioned that he had read a poem on this very subject on the previous day of  the festival.
Barelvi then read excerpts from his book, talked about his association with Habib Jalib, and how Jalib consistency spurned any state patronage or government help.  Noor ul Huda Shah quipped that Barelvi too had not received any benefits throughout his career. At the end, Mujahid Barelvi presented copies of his book to the panelists and signed the copies brought by the audience.
Ali Arqam main domain is Karachi: Its politics, security and law and order
Next