Paranoia, the Pakistan Army and Misconduct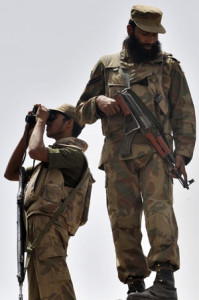 There's another news report circulating of an "officer" of a Pakistani security institution doing something bad.
The report by Umar Cheema in The News states:
"A serving army officer allegedly beat black and blue an award-winning music director, Sohail Javed, on Wednesday night in Lahore Cantt after a row which started after the officer's son hit the car driven by Sohail's wife with his bike.

While Colonel Nadeem thrashed Sohail, the officer's wife allegedly beat Sohail's wife. Sohail has recently shifted from Karachi to Lahore and resides in Askari 10, a garrison housing society that affluent people generally prefer to live in considering it a better place on security grounds."
The beating at the hands of Colonel Nadeem reportedly took place "in the office of Askari 10's administrator." According to the newspaper, the administrator, who is a retired major, did not intervene and later said he could not get involved because a serving officer was involved in the incident.
The alleged behaviour of the army officer is described further:
"Sohail, who survived cancer and has already gone through two major chest surgeries, said that Colonel Nadeem didn't listen to them and instead kept saying, "How dare you touch my son. I am a serving officer and I will not spare you now or in the days to come and whenever and wherever I will see your family, I will beat the hell out of you guys if need be; I will make sure you don't live in Askari 10 in peace."
The reactions, very predictably, run to both the "How can the defenders of the nation DO such a thing?!" and the "Propaganda! They're just out to subvert our security forces!" directions.
My own first twitter post on this simply said:
Hey #Pakistan-is Be offended; be outraged; protest. But DO NOT say u don't know "How can an armywala behave like that with a civilian?"
But you know the old saying: "Just because you're paranoid doesn't mean they're not out to get you." Personally, I think a expanded version of that is applicable here: "Yes, they're paranoid, but yes, there's much wrong with that institution that we need to fix too. And yes, there are folks out to get them."
Next