How did you enter the world of modelling?
I started modelling when I was 16, and still a student. Akif Ilyas, who is a good family friend, randomly asked to click a few photos of mine. They turned out nice, and that was my entry into modelling. My elder sisters, Uzma and Salma Ilyas, were also models before me.
What were you studying?
I'm an accounts student. I've done my I-com, and I'm giving my B-com papers now.
Did people recognise you at college?
It was hard for me; our society is conservative and has double standards. My teachers used to get offended by me, just because I was a model. I'm a model outside of school; in school, I am simply a student. So treat me like one. In their eyes, modelling was something bad. There was this one teacher who would always taunt me. But I've always been very patient. If I'm a model, it doesn't change how I am as a person.
I have had to struggle against similar attitudes even from educated, well-established people. We pretend to be modern, when actually we are not.
Your family has always been very supportive of you.
Obviously, you can't work if your family is not behind you, especially given the odd hours one is expected to keep in this field. For example, when I was shooting Good Morning Karachi, we sometimes did 16 hours at a stretch, which besides being very tiring, meant you couldn't give your family any time. You went home, slept and then had to rush back to the set once you were up. So my family, especially my mother, have always been very supportive.
Although my family is slightly conservative, they realise that times are changing, and that the situation is not the same as it used to be in the past. Sab chill hai.
You started supporting yourself financially from a young age.
Yes, I think that was my initial reason for getting into modelling. Getting Rs 20,000 for a day's job is a lot of money, especially for a student.
What were some of your early struggles?
Anytime you start something or enter a new profession, there is a period of struggle since people don't know you. Then gradually, people begin to recognise you, and that is the time you make money by picking up projects that are right for you.
Given the skin colour that I have, which people in Pakistan don't normally like, it was difficult in a sense but at the same time, not really. When it comes to the fashion industry, everyone has been really supportive. My first major shoot (and my second ever) was the cover of She magazine.
I feel, and from what people I worked with have told me, that I've set a new standard when it comes to posing and using one's body language.
Did you ever feel pressurised to lighten your skin colour?
I still fight [to retain my dark complexion]. Whenever I go to one of these morning shows, the makeup artists come up to me and say, "Ma'am thora sa white kara dain…bus thora sa…" So I say to them, "Yaar, tum light laga lo agar tumhe main dark lag rahin hoon." And I am dark! So, deal with it.
So we won't be seeing you in a Fair and Lovely ad?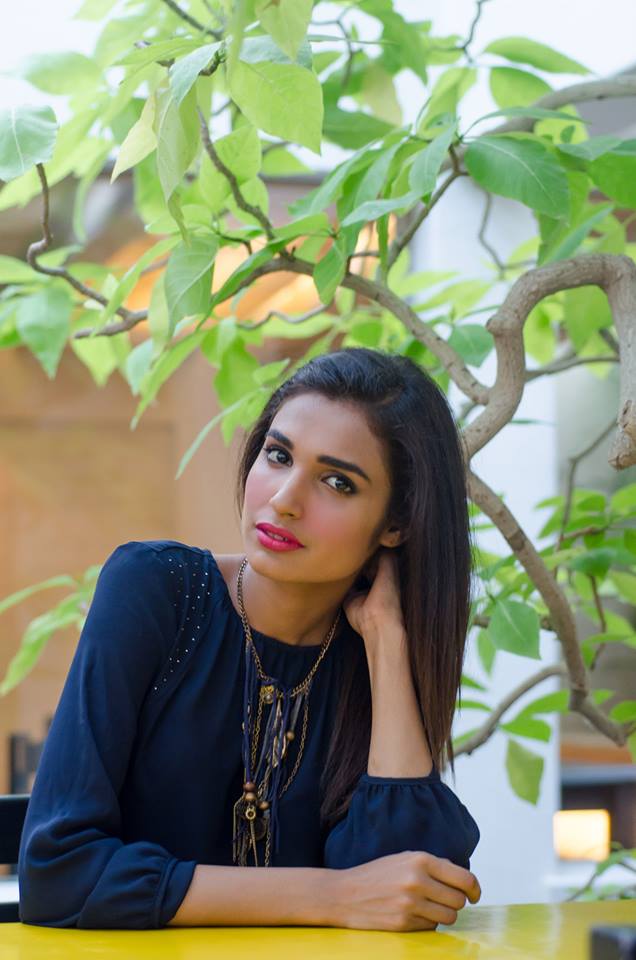 Actually, I have done a Fair and Lovely ad! Wanting light skin is the norm in our society, although I feel that is slowly changing now.
You've said that you admire Iraj.
I still feel she is the queen of the catwalk. I'm friends with her and have worked with her a lot. She's really sweet, down to earth and supportive if something goes wrong backstage. And she's very genuine.
Are there any other models you look up to?
I will not say I look up to anyone, as I've never believed in following in anyone's footsteps. I've always done what I've wanted to. But there a lot of models that I do like and respect, who have diversified the field and brought in new changes. Nadia Hussain is one of them, and I also like Vinnie.
When I started modelling, since we didn't have any modelling schools, I used to watch America's Next Top Model. I watched all the seasons, and that's how I trained myself. From the international models, I really like Tyra Banks and Naomi Campbell but my all-time favourite is Adriana Lima.
What kind of a person are you outside of your professional life?
Well, my friends tell me that I'm one of the boys. When I'm home or with friends, I'm a jeans and a T-shirt person. Main kahin bhi khari ho ke cigarette jala le ti hoon, mujhay koi tension nahin hoti hai. I'm totally chilled out. However, in front of the camera, I'm a true professional; I'm focused and I know what I have to deliver. I've been told that I'm a totally transformed character in front of the camera.
Are you ambitious?
Getting success at the age of 22, having two films out, being one of the top three models in the country…luck is one thing, but one needs to work hard as well. And I think I'm very passionate about whatever I do.
My father passed away when I was just a child. I started working because I wanted to support myself and finance my studies. Main bahaut sughar qism ki insaan hoon, andar se mujhay jornay ka bahaut shauq hai. I do small investments, I'm planning on investing in stocks.
Were you approached by the directors for the two films you've starred in?
For my first film, Good Morning Karachi, Fahd Hussain of Citrus Talent Agency approached me and told me they were looking for a 20-year-old saanwli si larki, and he thought I fit the character. So I met Sabiha Sumar at her home and we talked about the film, and my life kind of related to that of the main character. She signed me on, though I was hesitant at first. Kyun ke filmain jo hum ne Pakistan main dekhi hain, Punjabi aur Pushto filmain, kaafi ajeeb hoti hain. I wasn't sure at first about the kind of film she would be making, but I did know that Sabiha Sumar is a good filmmaker. So I asked for some time to go over the script before I got back to her…even though I didn't know jack about cinema at the time.
Sabiha trained me for three months and during this period, I was just focused on the film and put modelling on the side. She taught me concentration excercises, improvisation and language skills, since the entire film is in English, to develop the character.
For my second film, Zinda Bhaag, it was the assistant director who had recommended me. I auditioned for the film, and I got the role.
How has your experience of working in films been?
Yaar, Pakistan main film banana bahaut mushkil hai. Other than the directors and the people who have studied abroad, people don't know how to make films here. When it comes to production and crew management, we're a bit weak. So there were a few problems here and there. But, overall, the filming experience has been tremendous. I really like being on film sets, and I like the vanity of it all.
Zinda Bhaag was a lighter experience for me, because it was my second film so I had a better idea about the lights, the camera angles and the dialogues. Good Morning Karachi was more difficult, because of the long hours and the fact that I was in practically every scene. If you see any photos of mine behind-the-scenes on the set, you'll catch me falling asleep in whichever spot I could find.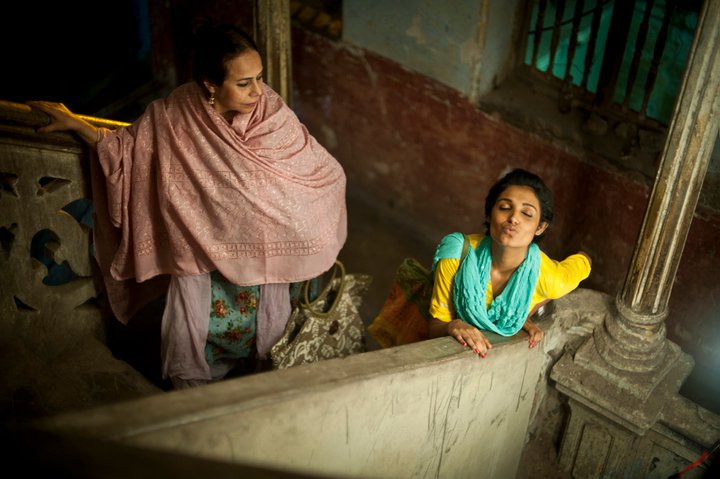 What kind of roles do you like?
I would like to do different characters, more challenging roles — maybe play a prostitute or a psychopath. I'm working on a new film which is an action film; the director is a friend of mine, someone new.
Would you like to act for television?
I'm in talks with Hum TV, but it's not final. I prefer films. TV is a whole a different ball game. Also, TV is a little conservative.
Do you find society too conservative generally?
When I was going to attend the premiere of Zinda Bhaag, I made sure I wore a sari just to look covered and be on the safe side. I've put up a few photos of mine on my fan page, and the kind of comments I receive sometimes: aap apne aap se sharminda ho jaate ho. These reek of double standards. Whenever you google my name, you get 'amna ilyas hot' in the search bar. What is so hot about me? But, I've grown used to it by now.
Do you prefer modelling to acting?
Modelling is my first love. I love both the ramp and photo shoots, but fashion can get monotonous. After every six months, it's the same Fashion Week. I like photoshoots. I've done ads, music videos, films, I'm doing TV projects now. I'd like to be able sing as well at some point. I feel an actor should know how to sing. Modelling life is also very limited. I think Pakistan is the only place where you can model till you're like 40 years old. With acting you get to do different kinds of things.
Strategy is very important, you have to start preparing for the next year already.
Is the fashion industry as cut-throat as it is made out to be?
Definitely, it is very cut-throat. Of course, there is competition — and there should be healthy competition in every field — but if people are bitchy to your face, it could be a bit difficult to handle on occasions. But meray saath sab ki dosti ho jaati hai, yaar!
Loag kehte hain fashion industry main bahaut buray loag hotay hain, but we're still here. I work with the créme de la créme of fashion, and they're all professional and focused. Even if I'm standing half-naked in front of them, they'll be really cool about it.
Sorry if I'm being very blunt, but if you don't want to sleep with anyone, no one is going to force you to, right? Whatever you do is a result of your own choices. I believe the casting couch concept exists all over the world, and in whichever field you make an entry. The only difference is that in the fashion world, everything is out there in the open.
The writer is a journalist and former assistant editor at Newsline.
Next