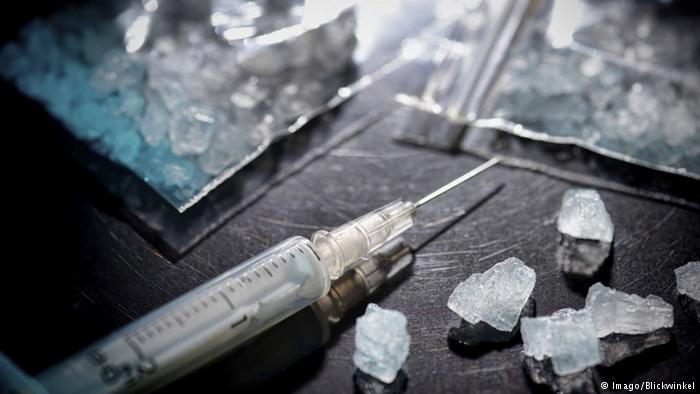 PESHAWAR:  A group of teenagers sit in a classroom crouched over their books. Aged from 10 to 18 years, some among them  appear restless and vacant-eyed. This is not a formal school. Instead, all these children are recovering drug addicts undergoing recovery at the Dost Welfare Foundation.
Dressed in a black shalwar kameez, fifteen-year-old Fawad Khan has been struggling to redeem himself. The pale-faced teenager from Swabi district in KP became an ice addict and dropped out of school.  He has been here at Dost Welfare Foundation for the last two months and five days.
After hashish and heroin, ice or crystal meth is fast becoming the drug of choice in KP. Fawad describes how he became hooked."I was initially using hashish, then heroin. I first used meth at my mamu's house where some guests came to join him," he recalls. "Then I smoked it with my friends and became a habitual user. My brother also uses meth. In fact, he was selling it and I used to get it free from him."
"It came to a point where I was using meth all night and even during the day, and doing nothing else at all. My brother was against my coming to this foundation for help but my mother's tears moved me. She said she would no longer call me her son if I refused treatment."
According to the Dost Welfare Foundation, a total of 34 teenagers have been registered with them in their Peshawar center. Around 150 adult meth users have also completed the three-month rehabilitation course at the Shahi Bala center of DWF. Most users are from KP but some hail from Afghanistan as well.
"I was a student of class 8 but started skipping school when I began  using drugs with my friends," says Muhammad Luqman, 16, of Amazo Garhi in Mardan district. " I started with cigarettes, moving on to hashish and then heroin. I used hashish for three years and would carry it  it from Jamrud tehsil of Khyber Agency to Mardan and sell it there. One day we had a visitor from Malaysia to our home. He introduced me to ice." Luqman says that meth is more damaging than heroin and hashish. "The meth made me feel overjoyed and very energetic," he says. "It banishes sleep and hunger."
Luqman  soon started selling the stuff as well as using it. There are two grades of crystal meth available in the market, explains Luqman. One costs Rs 3000 per gram and the other Rs 1500 per gram. "My family knew what I was up to and were pressurizing me to get treatment but I kept refusing until I had a very bad episode," says Luqman. He now says he will convince his other friends to seek treatment as well.
Taj Pari Bibi, of Swat district, has come to the centre to meet her son Farooq Khan. "My son drives a rickshaw but was spending whatever he earned on drugs. Right now I am working at a home in Hayatabad, Peshawar to earn money for his treatment," says the courageous mother. "I have already lost two of my sons to drug use and I don't want to lose this child as well. I told my son he had two options: either go to the police station or go to the rehabilitation centre."  The boy's father , a retired government, servant  died few years ago. Taj Pari Bibi says," I want to see my son fully recovered and then he can start being a support to me and his younger sister."
Muhammad Naeem, Director of the Social Welfare and Women's Empowerment Department Khyber Pakhtunkhwa, holds the ongoing Afghan conflict responsible for the drug menace. He says that until the war prevails, the drugs will be available in this region. Stringent border management could reduce the easy supply of drugs from Afghanistan, but that is not the mandate of his department he clarified.
The department's mandate is to detox and rehabilitate drug addicts, which includes counselling, providing vocational training and following up with the recovered addicts.  According to the director, the KP government had released Rs 150 million in 2014 to Dost Welfare Foundation for the treatment of  4000 addicts till June 2017. A total of five rehabilitation centers for drug addicts in KP have been established by the social welfare department in Peshawar, Swat, Kohat, Lower Dir and Dera Ismail Khan.  A total of 5484 drug addicts have received treatment in these centres.
Program Manager of Dost Welfare Foundation, Tariq Mehmood told Newsline that the use of crystal meth has grown alarmingly in the last few months due to its easy availability. According to users, the drug is coming in from Iran and Afghanistan. However, there are no accurate statistics on the number of meth addicts in the province.
According to Mehmood, "Various toxic chemicals are used to prepare crystal meth or ice, among them sodium hydroxide, sulfuric acid, hydrochloric acid, lithium toluene and others. But ephedrine is the main ingredient."
Dr Mian Iftikhar Hussain, a respected psychiatrist from Peshawar says he has treated around 20 meth addicts, including 6 female patients. "In the last two years, crystal meth abuse has turned into an epidemic. In fact, hashish and heroin addicts are now experimenting with meth." The drug has proliferated all stratas of society from the affluent and educated to the lower classes, says the doctor.
Dr Iftikhar explains that the use of meth kills the appetite and causes sleeplessness, and euphoria. This is accompanied by an increased heart rate, rise in blood pressure and sexual arousal. An addict can go without sleep  for 48 to 72 hours and over time the user becomes paranoid and aggressive. He can even turn violent.
Dr Iftikhar stresses that crystal meth must be recognized and included in the officially recognized list of illegal drugs. He also stressed on the need to spread awareness through seminars and talks in educational institutions.
Currently there is no provision in the existing law to restrict or punish the use of  meth. However, according to a KP Health Department official, the government had decided to incorporate a clause to restrict production, usage and sale of crystal meth or methamphetamine in the KP Prohibition of Smoking and Tobacco Products and Protection of Non Smokers Health Bill which will be tabled in the KP assembly for approval.
Farid Shinwari is a Peshawar and FATA-based journalist who writes for a number of leading publications.
Next